On this page you will find everything you need to help you participate in the Emergency Management Health Check for NSW Local Government.
This is a state-wide project initiated by the Sydney Coastal Councils Group (SCCG), funded by the State Emergency Management Program (SEMP) and endorsed by the State Emergency Management Committee (SEMC).
Your Health Check Toolkit
Click on the links below for more information.
Project Background – Get the backstory on the inspiration, drivers and stakeholders involved in this state-wide initiative.
Benefits for Council – Review feedback on the benefits and value of the tool in better preparing councils and regions around NSW.
Guides & Templates – Learn how to use the tool, interpret your results and create action plans to improve your readiness.
Engaging Stakeholders – Use our step by step approach to engaging stakeholders to facilitate completion of the Health Check.
Resource Links – All the resource links you will need for emergency preparedness and grant funding applications.
Case Studies – Read case studies on better practice local emergency management and building the readiness and resilience of communities.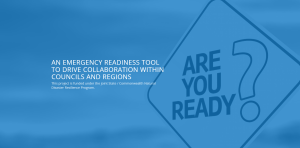 Project Background
PHASE 1
Piloting an Emergency Management Health Check
The NSW Office of Emergency Management (OEM) awarded grant funding under the State Emergency Management Projects (SEMP) Program, 2012-13 to the SCCG to complete a Phase 1 Project entitled "Emergency Management Planning – Piloting a Health Check for Local Government."
The project's aim was to improve the emergency management capability of local government for harm minimisation in response to natural hazards.
A fundamental assumption of emergency management is that response starts at the most immediate level, and scales up as required. In NSW primary responsibility for planning for emergency management at the local level lies with the Local Emergency Management Committee (LEMC). While local government acts as a partner in emergency management, legislation does not define clearly the tasks required of local government.
The primary output of Phase 1 of this Project was to develop a Health Check Tool to enable local councils to review their role in emergency management in terms of prevention, preparation, response and recovery, and identify opportunities for improved outcomes. The contents and format of the Health Check Tool were based on the National Strategy for Disaster Resilience (COAG, 2011) and its seven key priorities.
The SCCG engaged thirty (30) councils across NSW to test and trial the Health Check Tool. The Pilot Health Check Tool was developed in a spreadsheet format with an additional user guide and useful documentation. Feedback provided by Local Government participating during the pilot indicated that the Health Check Tool was not user-friendly, created a disconnect between the Local Emergency Management Committees (LEMC) and councils, and there was limited understanding of the value the tool would deliver.
In order to address the challenges of the Phase 1 Health Check Tool and provide maximum opportunity for a successful implementation and uptake by all local councils within NSW, Phase 2 of the project "Implementing and Embedding an Emergency Management Health Check for Local Government" received approval for grant funding through the SEMP program in 2015.
PHASE 2
Implementing and embedding an Emergency Management Health Check Tool for local government
In 2016, the Sydney Coastal Councils Group (SCCG) initiated Phase 2 of this project 'Development and Implementation of an Emergency Management Health Check Tool for Local Government' supported by a State Emergency Management Project (SEMP) grant from the NSW Office of Emergency Management.
As part of this process, we engaged consulting firm Janellis to develop a functional online emergency management health check tool and resource package, and facilitate a series of regional Stakeholder Workshops for councils and relevant State Agencies across NSW. Workshops were held in Sydney, Western Sydney, Newcastle, Ballina, Dubbo and Ulladulla.
The Emergency Management Health Check allows councils, Local Emergency Management Committees, regions and government representatives to identify areas for improvement in council's resilience and readiness capability; build a case for funding to address emergency management needs; ensure integration between local emergency planning, risk management and Integrated Planning & Reporting Framework; and provide a platform to identify best practice emergency management and share lessons across NSW.
The Health Check Tool and online resource were launched in January 2017 on the emhealthcheck website (Note: This website is no longer active and resources and information have been transferred here instead).
Download the Stakeholder Briefing Template on Phase 2.
Benefits for Councils
Feedback and insight into the value of the Health Check for local government.
WORKSHOP FEEDBACK
A summary of facilitated discussions at the Emergency Management Stakeholder Workshops held in 2016.
A collation of workshop feedback found the following benefits identified by participants:
Allows for continuous improvement within emergency management at the local level;
Elevates the conversation to the General Manager / Executive level within local councils;
Alignment with current internal auditing requirements;
Creates a baseline from which to measure improvement;
Validation of local emergency management planning and capability;
Provides a business case for funding and resources;
Drives internal and external stakeholder engagement and collaboration;
Fit for purpose and user friendly.
Please review the Project Update sent to all workshop participants in December 2016 with more details on the workshops and feedback.
Guides & Templates
GUIDELINES
Using the Health Check to improve your Emergency Management Readiness
TEMPLATES
Pre-developed documents for you to customise for your Council's Health Check Initiative 
DISCLAIMER
The information contained on this website and associated material comprises general statements based on investigations into the development of policy and practice related to Emergency Management. The SCCG advises the reader that information on the website and in uploaded documents may be incomplete and unsuitable for use in any specific situation without seeking prior expert professional and technical advice.
To the extent permitted by law the SCCG (including its employees and consultants) excludes all liability to any person or organisation for any consequences, including but not limited to all losses, damages, costs, expenses and any other compensation, arising directly or indirectly from using this website and any information or material contained in it.
The views expressed herein do not necessarily reflect the views of the NSW Government or the Commonwealth of Australia.
Engaging Stakeholders
A simple 6 Step guide to help you get the stakeholders you need on board for this initiative.
As with any initiative, project or program, the key to success is a strong and effective stakeholder engagement and communications strategy. To assist councils in getting the Health Check off the ground, socialised and successfully implemented we have developed some simple guidelines for stakeholder engagement.
1. Identify Key Stakeholders
Multiple local government stakeholders will need to be involved in participating in the Health Check. As an example you may wish to consider council representatives with a role to play in emergency management such as:
General Managers
Local Emergency Management Officers (LEMO) and alternates
Risk Managers
Infrastructure
Strategic Planning
Community Engagement
Environment and sustainability
Governance
Business Continuity Planning
Corporate services
You may also wish to involve or consult with members of the LEMC and other external stakeholders, consultants or experts who have been involved in your emergency capability development.
We recommend recording your key stakeholders in a register that will include:
Name
Role
Stakeholder category
Contact details
Record of communications made – type, date, by who
2. Develop your Stakeholder Briefing Document
The Stakeholder Briefing Template has been provided to assist in creating the first line of communication to a potential project sponsor or other key stakeholders about the Health Check initiative. Completion of an initial 'draft' document is recommended which can then be socialised with the relevant council staff members for review and consideration.
Download the Stakeholder Briefing Template.
3. Create your Stakeholder Communications Plan
We also recommend developing a simple Stakeholder Communication Plan in order to map out your strategy for engaging with the revelant internal or external parties.
The Communications Plan would include an indication of:
The various stakeholder groups you have identified above;
Key messages to each that will communicate what's in it for them, why it's important and what action is required of them;
Methods of communication to each group eg. email, presentation, briefing document, meeting or workshop;
Timing of communication e.g. when does it need to happen by;
Who will deliver the message e.g. sponsor, facilitator or others.
4. Facilitate Meetings or Workshops
In order to complete the Health Check you will require input from your various stakeholder groups. You may choose to gather their input in a number of ways:
By sending them the relevant questions to review and complete
By meeting your stakeholders one-on-one to assist you in completing the relevant questions or sections
By facilitiating a workshop or series of workshops to enable group discussion on the questions and responses.
We would recommend ideally a blend of the above according to what will be appropriate for your council, your risk profile, size, complexity or internal culture.
Prior to undertaking any of these interactions you should develop a clear plan that includes consideration of the following for each meeting or workshop:
Aim
Objectives
Key Messages
Success Criteria
Agenda or Flow
Participants
Duration
Location
Logistics
The aim of the meeting or workshops is to generate the discussion on emergency management, uncover potential discrepancies in thinking, seek alignment and ultimately provide the platform for completion of the Offline Health Check Questionnaire.
Download a copy of Offline Health Check Questionnaire.
5. Complete the Offline Health Check Questionnaire
The Offline Health Check Questionnaire is a Word Document that allows users to review all the questions, response scales and best practice indicators prior to inputing into the Online Health Check Tool. Responses can be checked using check boxes and commentary on your response can be added in the 'comments' field.
A final review of the Offline Health Check Questionnaire can be made by the relevant stakeholders prior to proceeding with completion and submission of the Online Health Check.
Download a copy of Offline Health Check Questionnaire.
6. Complete the Online Health Check Tool
Login into the Online Health Check Tool to complete and submit your responses using your Council ID Authenticator. The Reports generated will assist you in preparing an improvement plan and executive report to present to key stakeholders for review and action.
Note: The online tool is no longer available. The offline hardcopy can be used instead, as the questions and rating system in the offline version are the same. 
Resource Links
Access to resources and grant funding information
HELPFUL LINKS
To assist you in improving readiness within Council and your local area
RISK MANAGEMENT
PLANNING
STAKEHOLDER ROLES AND RESPONSIBILITIES
TRAINING
RECOVERY
AWARDS
STAKEHOLDER ENGAGEMENT AND COMMUNICATION
COMMUNITY ENGAGEMENT
COMMUNITY AWARENESS AND EDUCATION
Bushfires
Floods
Storms
Tsunami
PODCASTS
INFORMATION ON GRANT FUNDING
To help your Council identify opportunities for funding to build resilience. 
Grant funding applications for some of these programs link to the outcomes of risk assessments and management plans which identify treatment options and works programs. Examples of these include bushfire, floodplain or coastal zone risk management plans as well as an Emergency Risk Management Study.
Funding aims to address priorities identified in risk assessments and management plans as well as in documents prepared under the IP&R legislation.
For more information on NSW Natural Disaster Resilience Programs (NDRP) please contact the Office of Emergency Management Grants Unit on (02) 9212 9252 or email ndrp@mpes.nsw.gov.au.
BUSH FIRE RISK MANAGEMENT GRANTS SCHEME (BFRMGS)
Funding from the NDRP to address bush fire risks is allocated through existing programs managed by the NSW Rural Fire Service. These programs are for local governments and eligible public land managers to maintain and improve fire trail networks and undertake hazard reduction and other bush fire community resilience projects.
For more information on the Bush Fire Risk Management Grants Scheme (BFRMGS) please email bushfiregrantprogrammes@rfs.nsw.gov.au
FLOODPLAIN RISK MANAGEMENT GRANTS SCHEME (FRMGS)
Funding to address flood activities is allocated through the existing Floodplain Management Program managed by the Office of Environment and Heritage. This program provides financial support to councils and eligible public land managers to:
make informed decisions on managing flood risk by preparing floodplain risk management plans (and associated background studies) under the floodplain risk management process
implement floodplain risk management plans to reduce flood risk to both existing and future development, and reduce losses through a range of property, flood and response modification measures as outlined in the manual
provide essential information to the State Emergency Service to enable the effective preparation and implementation of local flood plans to deal with flood emergency response.
Further information can be found on the Office for Environment and Heritage website.
COMMUNITY RESILIENCE INNOVATION PROGRAM (CRIP)
The Community Resilience Innovation Program (CRIP) is designed to build disaster resilience within communities through projects that identify community needs, mobilise partners, and create innovative and effective solutions that can be grown, sustained and replicated. The CRIP supports grass roots initiatives designed to encourage community sector cooperation, collaboration and education by bringing together local community organisations with agencies that have emergency services responsibilities to enhance local community capacity and resilience.
Review examples of CRIP funding approved in 2014/15.
Review examples of CRIP funding approved in 2013/14.
For more information visit the Community Resilience Innovation Program (CRIP) page on emergency.nsw.gov.au.
Case Studies
Evidence of best practice emergency management from around Australia.
LEARNINGS IN EMERGENCY MANAGEMENT
How local government, emergency services and community groups are buidling readiness and resilience within their local areas. 
NSW Office of Emergency Management
Attorney General's Department
https://www.sydneycoastalcouncils.com.au/wp-content/uploads/2018/08/SydneyCoastalCouncilGroup.svg
0
0
SCCG Admin
https://www.sydneycoastalcouncils.com.au/wp-content/uploads/2018/08/SydneyCoastalCouncilGroup.svg
SCCG Admin
2023-03-16 04:47:15
2023-03-16 05:04:13
Emergency Management Health Check