Watch our education video to find out more about the Greater Sydney Harbour Coastal Management Program (GSHCMP) and how it can help improve catchment and waterway health for our iconic Harbour.
Project Summary
Twenty councils within the Greater Sydney Harbour catchment are collaborating with state agencies to develop a whole-of-system Coastal Management Program for Greater Sydney Harbour. The SCCG is project managing the delivery of this CMP.
Greater Sydney Harbour Coastal Management Program Stage 1 Scoping Study identified urban stormwater discharge as a high priority threat to environmental and public health.
The Sydney Harbour Water Quality Improvement Plan has also been completed and provides a strong base for the development of the GSHCMP.
To assess threats posed by pollutants being carried into Harbour waters, a Stage 2 investigation will determine risks across all catchments feeding the Harbour and steps needed to mitigate those risks. The aim is to provide for coordinated action by councils, in partnership with state agencies and the community, to facilitate integrated waterway health management for the entire Greater Sydney Harbour system. This Stage 2 investigation will bring together available information on urban stormwater and apply existing tools (such as the Risk Based Framework) in a coordinated way, and enable individual councils working with State Agencies to develop projects/actions for consideration in Stage 3. The investigation will also involve community and stakeholder engagement.
This project is supported by the NSW Government's Coastal and Estuary Grant Program – Planning Stream
See the recent feature on Channel 10!
Purpose of a Coastal Management Program  
Under the Coastal Management Act 2016 (CM Act) councils may prepare Coastal Management Programs (CMPs) which set out the long-term strategy for the coordinated management of the coast, with a focus on achieving the objects and objectives of the CM Act.
CMPs identify coastal management issues in the area, the actions required to address these issues, and how and when those actions will be implemented. They detail costs and proposed cost-sharing arrangements and other viable funding mechanisms.
The CM Act (and other relevant legislation) establishes specific roles and responsibilities for relevant Ministers, the NSW Coastal Council, public authorities and local councils, as well as providing opportunities for communities to participate when preparing and implementing a CMP.
You can find out more detailed information about Catchment Management Programs here.
The importance of the Greater Sydney Harbour 
Greater Sydney Harbour is one of the world's greatest harbours and as such is a state, national and global asset. It stretches from its upper tidal limits on the Parramatta River downstream to the ocean entrance between North and South Head. Its catchments are the home of 3.07 million people (projected to go to 4.35 million by 2041) and the region is responsible for around 25% of the nation's GDP[1].
Greater Sydney Harbour is a magnet for tourists the world over and a source of great ecological diversity. Its waters are threatened by possible adverse impacts of population growth and development and potential impacts of climate change including sea-level rise and high magnitude catchment runoff.
At the centre of Australia's largest city, the harbour is subject to intense human activity which presents coastal managers with many challenges. Understandably, developing and delivering a whole-of-catchment CMP will be a complex task with the project team currently working with 33 stakeholders to plan and deliver the GSHCMP. Buy-in and participation by all levels of government and the community is imperative to achieving a strategic and coordinated management framework for the Harbour.
The Sydney Coastal Councils Group is the project manager for the GSHCMP. It will be whole-of-catchment and encompass Sydney Harbour tidal waterways and its catchment lands.
Conceptual Model of Wet and Dry Weather Conditions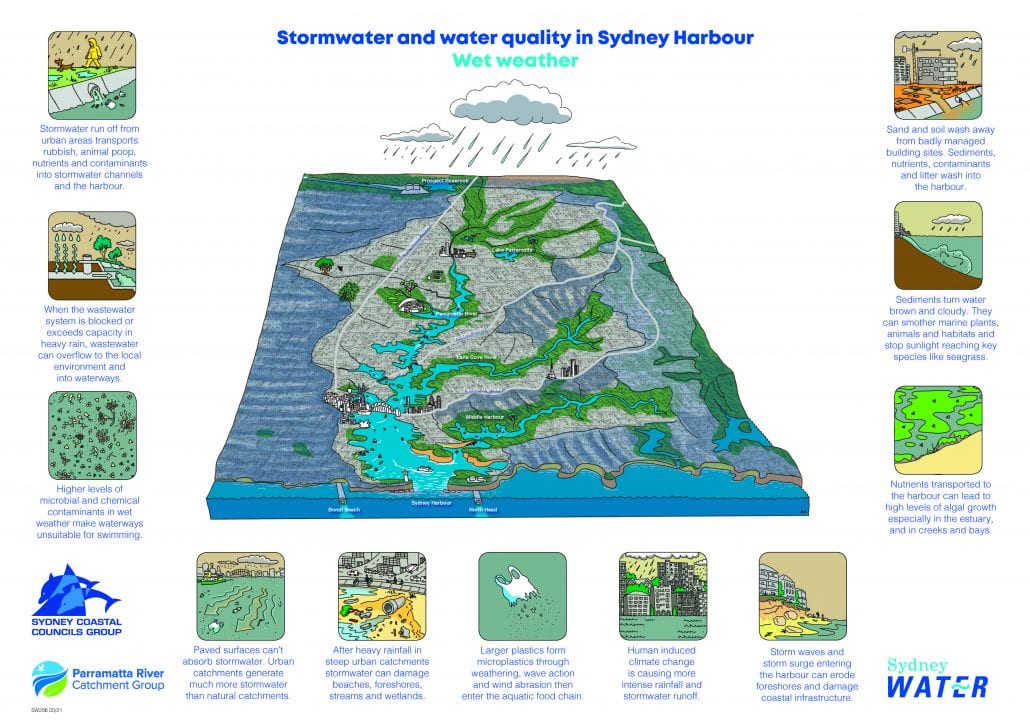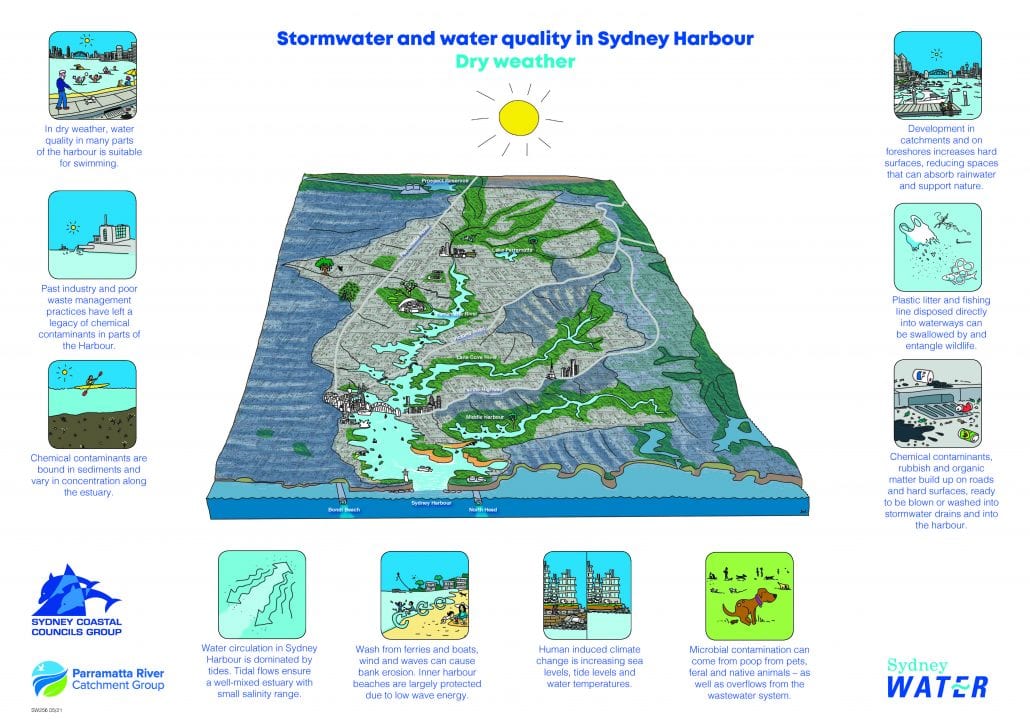 To download, click here.
These conceptual models show the impacts of stormwater discharge into Greater Sydney Harbour under both wet and dry weather conditions. The models were developed by Sydney Water in partnership with the SCCG, PRCG and DPIE project team.
The importance of working together
A single, whole-of-system Coastal Management Program is needed to facilitate coordinated and integrated management of Australia's most iconic and important waterway.
Local councils have a central role in managing the coast. The Sydney Coastal Councils Group promotes collaboration between member councils on environmental issues relating to the urban coastal and estuarine environment. We represent nearly 1.3 million Sydneysiders with six councils adjacent to Sydney marine and estuarine environments and associated waterways.
There are a host of benefits to working together in a holistic and integrated way as part of the Sydney Coastal Councils Group – improved environmental outcomes, improved capacity to address strategic and harbour-wide issues and interest, better communication, advocacy and promotion and efficiency savings to name a few.
Please contact SCCG if you'd like to join the many benefits of being a member council.
GSH CMP Communiques
See the latest communiques circulated to partners
[1] https://www.sgsep.com.au/publications/insights/gdp-report-economic-performance-of-australias-cities-and-regions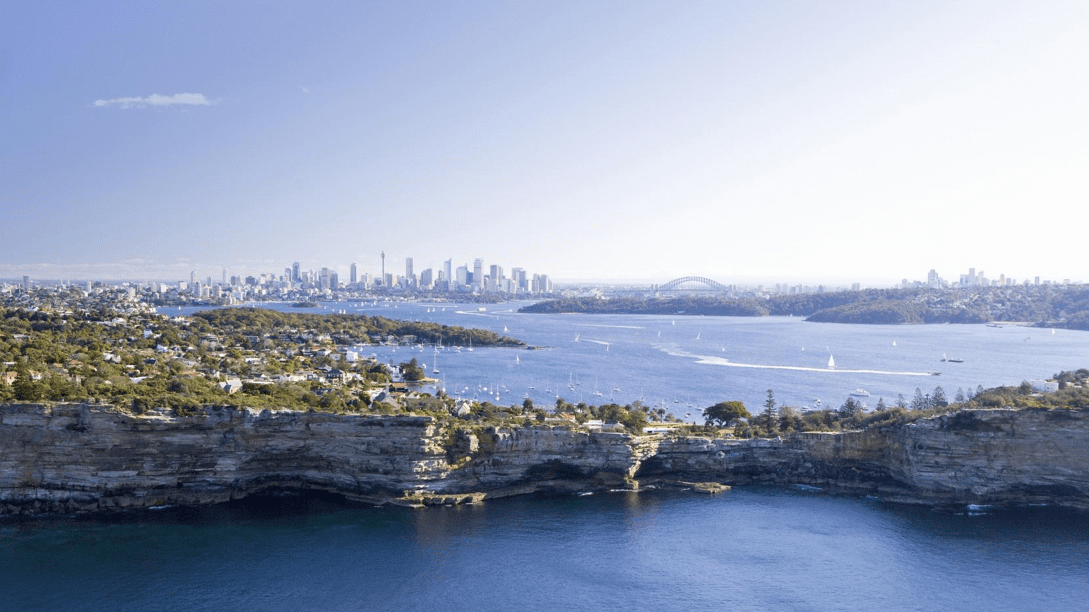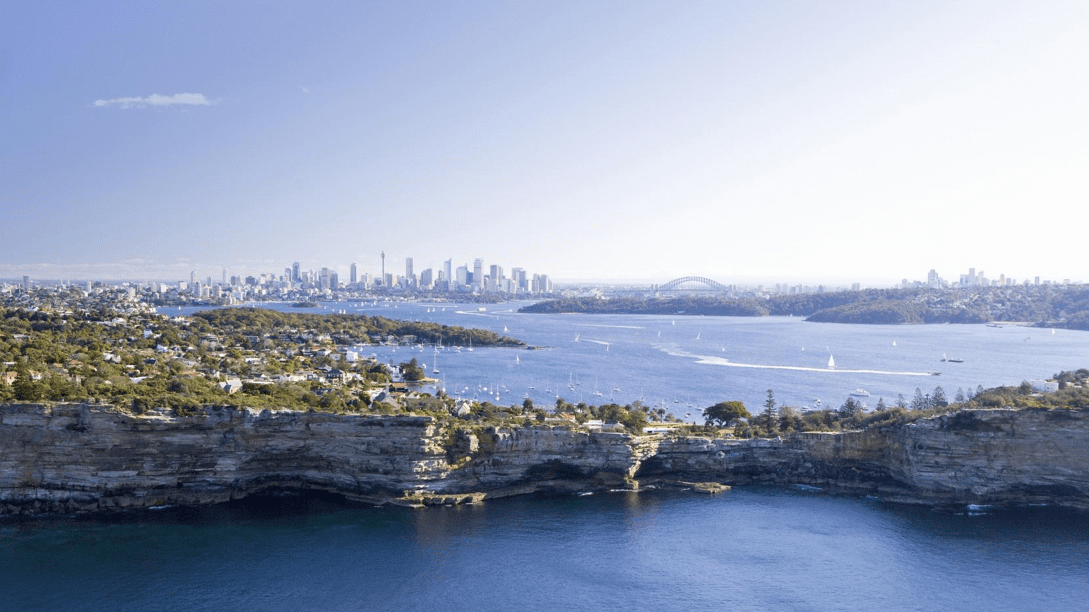 Sydney Harbour, Courtesy of Department of Planning, Industry and Environment
https://www.sydneycoastalcouncils.com.au/wp-content/uploads/2018/08/SydneyCoastalCouncilGroup.svg
0
0
belinda
https://www.sydneycoastalcouncils.com.au/wp-content/uploads/2018/08/SydneyCoastalCouncilGroup.svg
belinda
2019-03-08 02:48:41
2022-04-11 05:37:46
Greater Sydney Harbour Coastal Management Program