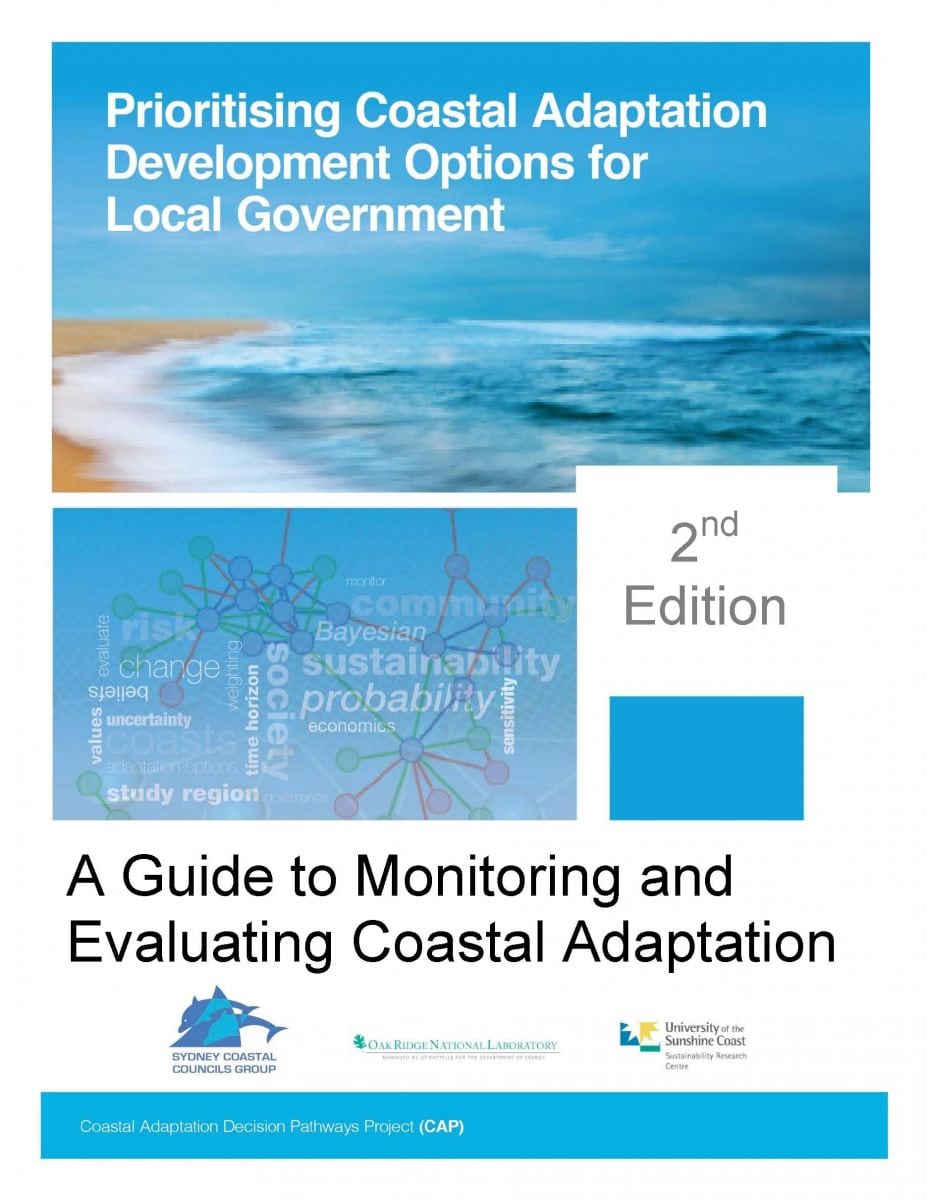 One of the findings to emerge from our 2013 project Prioritising Coastal Adaptation and Development Options for Local Government Project, was that although adaptation efforts are widespread in Local Government, there is limited evidence of appropriate monitoring and evaluation. When it comes to monitoring and evaluation, the focus is typically on measuring the outcomes of particular actions. However, outcomes are very much influenced by the planning processes behind those actions and the resources and capital (capacity) used to execute them. Without an understanding of the way these factors are influencing outcomes, it is hard to fully appreciate how effective or ineffective those actions are.
To address this issue we have developed A Guide to Monitoring and Evaluating Coastal Adaptation. The Guide provides a framework for monitoring and evaluating the climate change adaptation strategies and practices of Local Government in coastal areas, focusing on three key areas – best practice planning, adaptive capacity and monitoring outcomes.
Overview
The Guide begins with a brief overview of different adaptation strategies, based on the 'protect-accommodate-retreat' framework. It then proceeds into more focused consideration of the three key areas of planning, capacity and outcomes, drawing on best practice principles and standards.
A series of templates and case studies take users through an evaluation of their own adaptation plans against these best practice principles and standards. The templates contained in the Guide present a number of best practice principles for adaptation planning, adaptive capacity and monitoring outcomes. They are intentionally pitched at a high level, so that they can be applied across a range of contexts. However users are encouraged to adapt the templates to incorporate specific considerations relevant to their Council.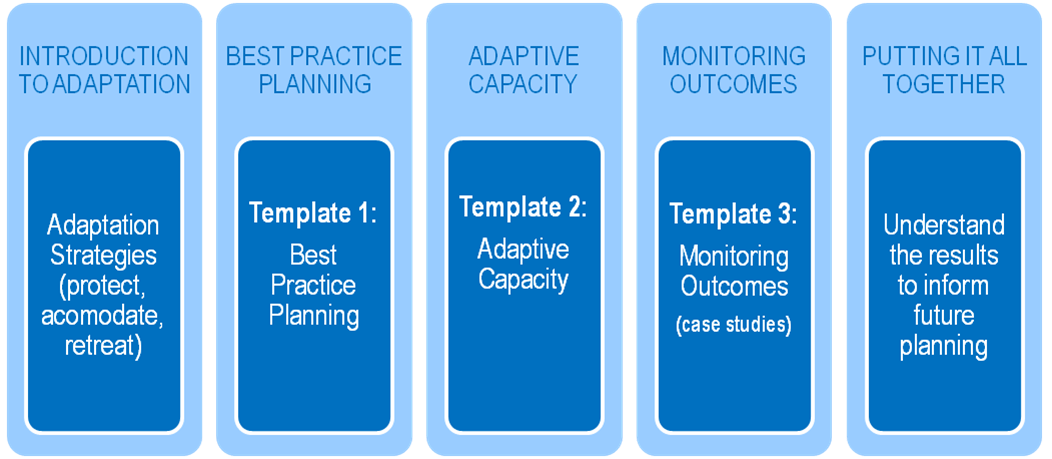 Although the Guide is focused on climate change adaptation, the principles and tools contained therein can be applied to planning processes generally. Indeed, climate change adaptation cuts across all functional areas of Local Government and should ultimately be embedded in all planning processes.
Downloads
A Guide to Monitoring and Evaluating Coastal Adaptation (2nd edition)
Editable versions of templates:
Background
The Guide is based on a literature review of relevant publications, as well as an online survey and workshops with the 15 Member Councils of the Sydney Coastal Councils Group, the Sunshine Coast Council, and Bega Valley Shire Council.
The original Guide, published in 2012, has been further refined based on outcomes from a Pilot Workshop Series with Council representatives from Bega Valley Shire Council, Leichhardt City Council, Rockdale City Council, Sunshine Coast Council and Sutherland Shire Council in early 2014.
https://www.sydneycoastalcouncils.com.au/wp-content/uploads/2018/08/SydneyCoastalCouncilGroup.svg
0
0
SCCG Admin
https://www.sydneycoastalcouncils.com.au/wp-content/uploads/2018/08/SydneyCoastalCouncilGroup.svg
SCCG Admin
2018-08-16 14:21:51
2018-12-03 00:03:23
A Guide to Monitoring and Evaluating Coastal Adaptation