Introduction:
---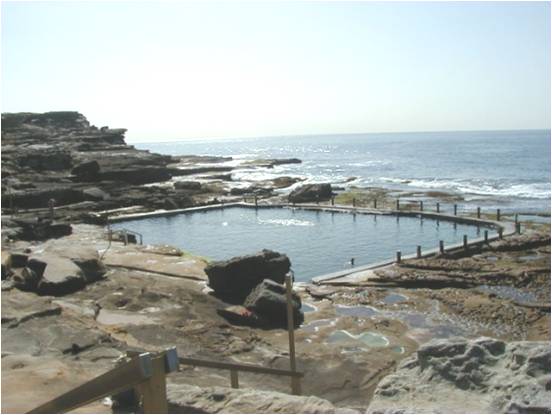 The SCCG Member Councils face a continual challenge from settlement and growth of marine organisms ("fouling") on coastal rock pools and platforms. The challenge arises from public health and safety concerns (and associated Council liability) for bathers who can slip on fouled surfaces. Approaches used to date primarily include mechanical cleaning and various biocides, particularly chlorine based bleaches. The use of the latter is constrained by significant concerns over non-target effects as the chlorine washes from platforms/pools into the marine environment more generally.
Mechanical cleaning has also not proved satisfactory because even very frequent cleaning is not sufficient to prevent fouling. This is not particularly surprising, given that microfouling – bacteria, diatoms, other microalgae – can form a slippery layer of slime with a day or two. These and other approaches to the problem are detailed in the SCCG's 1996 discussion paper, "Finding suitable options for cleaning Sydney's estuarine tidal baths & ocean rock pools for use by local governments".
An alternative approach is to use antifouling coatings that can be applied to pool or platform surfaces. Most standard ship antifouling coatings are inappropriate, as they rely on toxic actives (typically heavy metals or organic biocides) for their activity, or on "non-stick" (foul release) properties, which would only exacerbate the problem of slippery surfaces.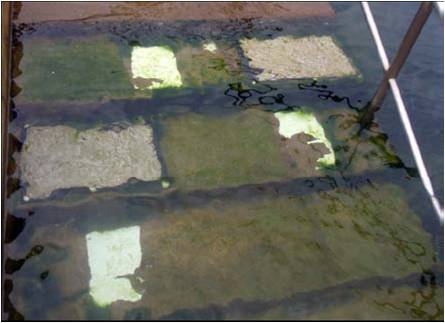 In 2008, the SCCG contracted Centre for Marine Bio-Innovation Algae samples(University of New South Wales) to undertake the above mentioned project. This project was made possible with funding contributions from the NSW Department of Environment, Climate Change and Water, Randwick and Sutherland Councils together with the SCCG.
Outcomes / Outputs
---
The research project identified and trialed alternative approaches to maintaining safe coastal pools and platforms applying antifouling coatings to affected areas to reduce or eliminate the needs for continual mechanical cleaning. Test sites where selected in partner Council areas based on a range of slip hazards and environments found along the coastline Coatings from three commercial suppliers and UNSW were assessed over three separate periods (Mar-June 2009, August-Sept 2009 and Dec 2009-Feb 2010).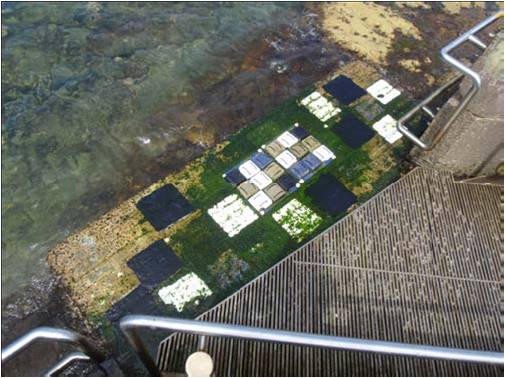 Results found that two coatings in combination with modified cleaning practices are recommended for commercial scale trials on pedestrian access points anticipating subsequent take up of these technologies. When these coatings are combined with the recommended modified cleaning practices the following improvements are expected:
For submerged steps and ramps:
For submerged steps and ramps:
Algae prevented from growing for at least 2 – 4 weeks compared to the current 2-7 days after cleaning.
Algae can be easily cleaned from the SW-Mat by hand without emptying pool water compared to the current requirement to emptying the pool and cleaning with a truck-mounted high pressure jet blaster.
The risk of slipping is significantly reduced.
For exposed platforms and walkways (such as Clovelly promenade):
Algae prevented from growing for at least 12 weeks compared to the current 3-4 weeks after cleaning.
The requirement for a truck-mounted water 'jet-blast' is significantly reduced.
The risk of slipping is significantly reduced.

FINAL REPORT:
Anti-fouling for NSW Coastal Pools and Platforms
Attachment 2: Field Trial Report
Todd Walton, Antifouling technologies for coastal pools and platforms and community responses (Honours Thesis).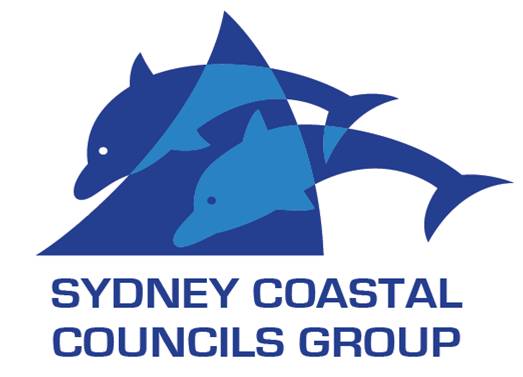 https://www.sydneycoastalcouncils.com.au/wp-content/uploads/2018/08/SydneyCoastalCouncilGroup.svg
0
0
SCCG Admin
https://www.sydneycoastalcouncils.com.au/wp-content/uploads/2018/08/SydneyCoastalCouncilGroup.svg
SCCG Admin
2018-08-17 12:38:12
2021-01-28 03:32:13
Antifouling Technologies for Coastal Pools and Platforms